Recently I had a discussion with a Singaporean comparing living cost in Malaysian and Singapore. I have always been grateful for being able to move to Singapore, because of this change in environment it changed my whole life. This is definitely one huge turning point for me, I was someone living in the "kampung" (village) to now residing in a place highly civilized. Any primary school here in Singapore has better facilities than most of the high schools in Malaysia, while I was so used to blackboard and chalks in the classroom, they use projectors and computers here.
Back in 2007, it was around 1SGD=2.3MYR at that time, today (2018) it is 1SGD=3MYR. That's a 30% appreciation in 10 years! 10 years might not be a very long time for some, but it's long enough for me to share some thoughts about living costs in Singapore and Malaysia.
1. Singapore residents have higher purchasing power
If we look at purely the currency conversion (1SGD=3MYR), everything seems like 3 times cheaper in Malaysia compared to in Singapore, but is this really the case? Not necessary.
I was in Johor Bahru just few days back and happened to walk around a supermarket. Let me just list down some of the items that I saw and their price tags, and their prices in Singapore supermarket:
1 pack 3-in-1 instant coffee (28 sticks), RM10.88 (SGD4.95)
1 box of Ferrero Rocher chocolate (30 pieces), RM52.88 (SGD14.90)
1 packet of fruits (total 8 pieces), RM4.90 (SGD1.50)
Other items:
1 round trip flight ticket from Kuala Lumpur to Paris by Emirates (same date), RM5735 (SGD1032)
1 Starbucks Latte (tall), RM12.70 (SGD6.50)
You see, first of all thing are not cheap in Malaysia. They are about the same price if you convert RM to SGD, if without conversion they definitely look expensive, hence those who earns SGD will have higher purchasing power in any case. Comparing a Malaysian who earns RM3000 and a Singaporean who earns SGD3000, it's so obvious a Singaporean can buy more things with SGD3000.
2. Singapore has lower income tax
A malaysian who makes RM3000 a month (RM36000 annually) will have to pay income tax at 10% (RM3600), while a Singaporean who earns SGD36000 will only have to pay SGD410 (SGD200+SGD6000 x 3.5%), which is only a mere 1.1%. See pictures below. In short, the tax in Malaysia is not cheap.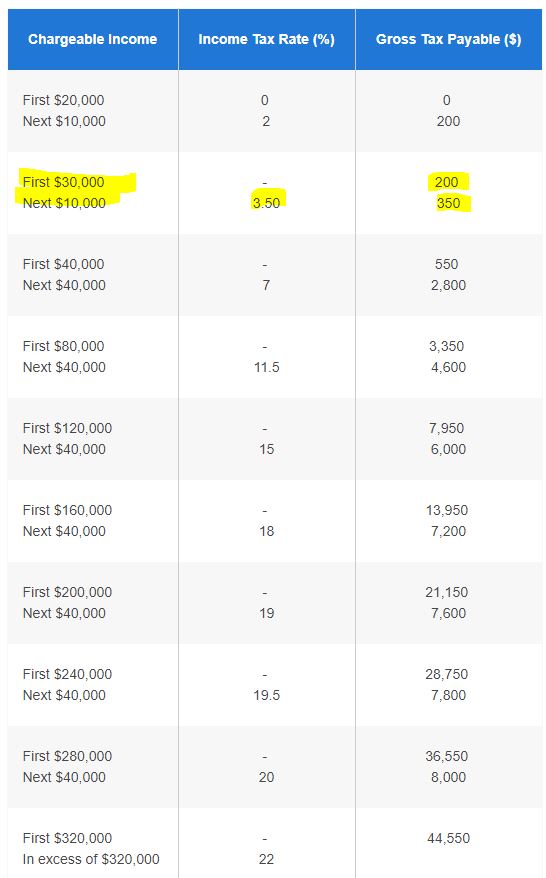 Singapore Personal Income Tax Rate (2017)
3. Houses are expensive in Singapore, but also not that cheap in Malaysia
Ok no doubt houses in Singapore are expensive, 1 3-bedroom HDB (flat unit) could easily cost between SGD350k to SGD450k, depends on the location. For 3-bedroom condominium, it's easily SGD1mil and above.
How's that in Malaysia then? A 3-bedroom condominium in Kuala Lumpur can cost from RM800k to RM1mil and above on average (varies by location). It's not that cheap. Of course there are cheaper houses, I'm just comparing apple to apple here.
4. Cars are expensive in Singapore! 
Yup I got it, we have to pay for the car and also COE (Certificate of Entitlement, in order to own a car), and COE can be as expensive as the car itself. This is a way of Singapore government to control numbers of cars on the road to avoid traffic jam, at the end of the day Singapore is a very tiny island. However, the public transport here is super efficient that it's not necessary to own a car here. MRT (train) and bus systems are so complete that they connect the entire island together, if not with Uber and Grab being so competitive here, it's relatively cheap to hail a private car or cab.
Cars are cheaper in Malaysia. In fact Malaysians have the third highest car ownership percentage in the world! You know why? The public transport system is not as efficient. Malaysia is a much larger country (in terms of size) and hence it's hard to have public transport to connect every single part of the country, I understand. That's why we need to get our own cars to navigate around, and it has become a habit to many!
Summary
So is that cheap to live in Malaysia? If you are a Malaysian who makes money and lives here, it might not be an easy life. A low salary (RM3000 for fresh grad is considered as high, read average salary here), the need of owning car (petrol, parking, car maintenance etc), the weak Ringgit.. it's definitely challenging to save up and afford better life quality.
If you are a Singaporean who makes money and spends in Singapore, you have much higher spending power, period. Singapore residents can make a relatively comfortable lifestyle even if they just earn SGD3000 a month, still can save up for travels, luxury and have more options in life. Stop complaining guys 🙂